With just 1 step
Only the assessment section of Bone Mineral Density(Dexa Scan) report is needed.
---
Upload Report
Upload photo of the assessment section from the Dexa(BMD) scan report
PRO TIPClick here to know how a BMD assessment section looks like.
---

"After using Bone Health Tracker, I'm able to get better understanding of my bone health and monitor the progress of my treatment."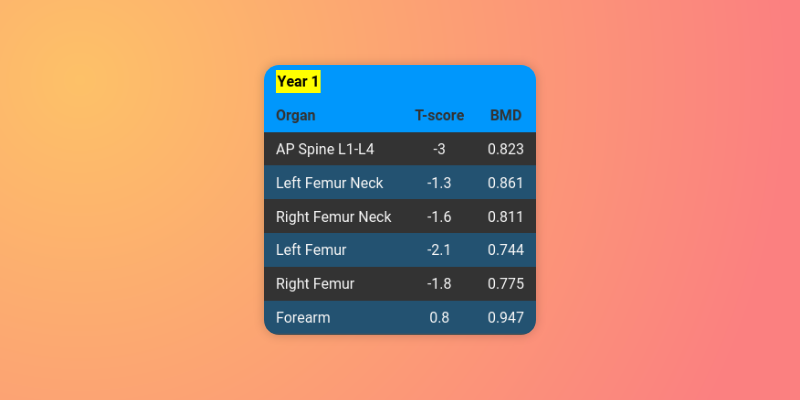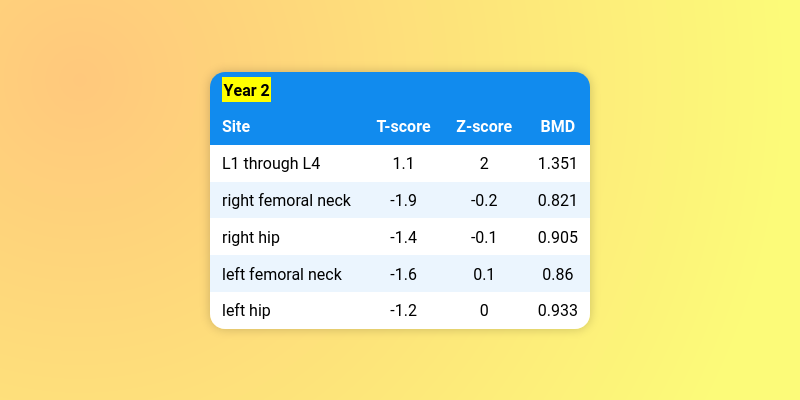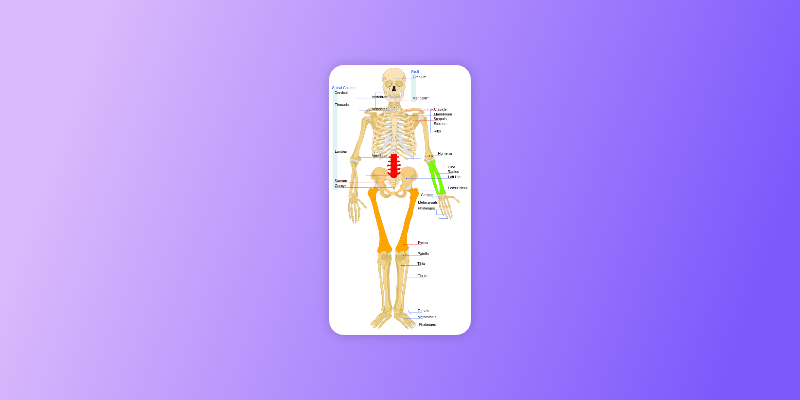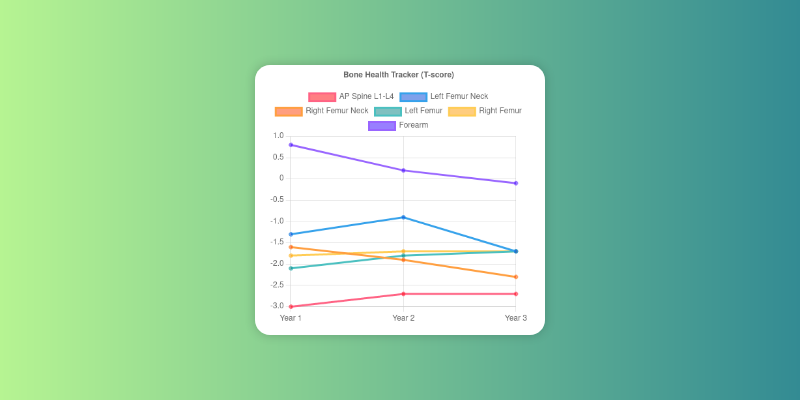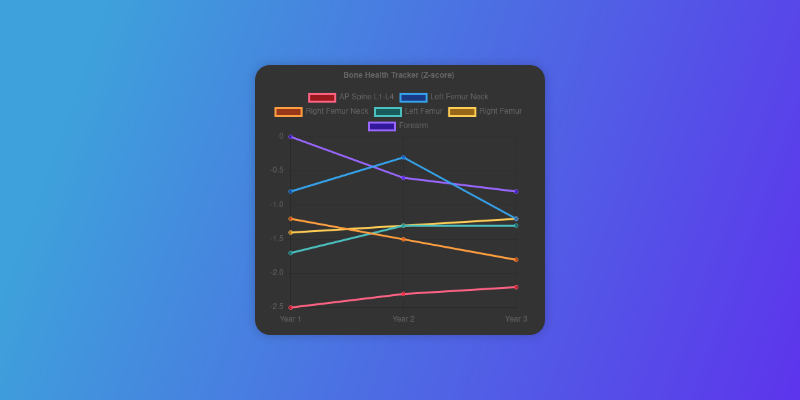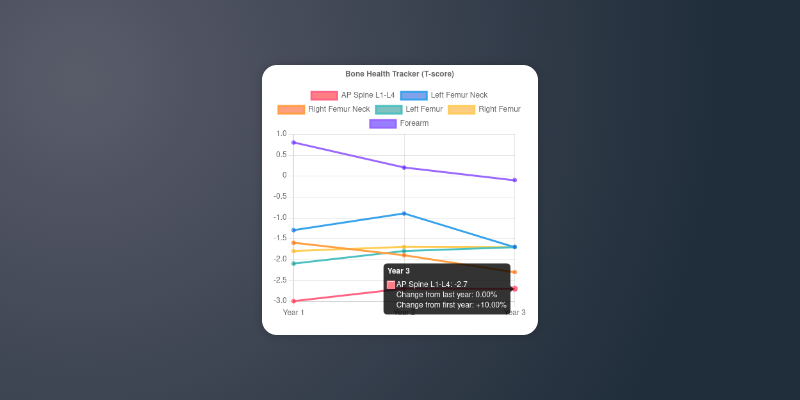 ---
Frequently Asked Questions
Why would I use Bone Health Tracker?

To track your bone health or of your family members. Monitor the progress of bone health treatment. Contribute towards the research of bone health treatments.

What is the Bone Mineral Density(BMD) Test?

A BMD test helps to determine whether we have disorders like Osteoporosis, Osteopenia which can make our bones fragile and more likely to break.

1 in 3 women over the age of 50 years and 1 in 5 men will experience osteoporotic fractures in their lifetime.

Here's an article from Mayo Clinic about Bone density test. This article from Bone Health & Osteoporosis foundation gives more technical information about the BMD test. Learn about T-score and Z-score here.
How does the assessment section of BMD scan report looks like?

Assessment section of BMD scan report is usually located above (or) below the table showing the T-Scores of bones. It doesn't contain any personal information. Upload only the assessment section from your report to Bone Health Tracker.

1.

Example of the assessment section of a BMD scan report.

2.

BMD scan sample report.

There is no assessment section like that in my report?

If your report doesn't have an assessment section like above (or) if it contains only a table with the scores; You can create your own assessment section with a word processor as shown below. You can download the Template for the same.

BMD Assessment section template.

Occasionally, BMD scores for couple of bone sites are mismatched?

Sorry about that, Try deleting that report and uploading it again. These occasional issues would be resolved overtime.

Bone Health Tracker doesn't show a bone site present in my BMD report?

Bone Health Tracker currently shows data from common bone sites like Spine, Hip, Femur, Femur Neck and Forearm. Support for uncommon sites would be added upon request, Please reach out to me.

Wrong year is displayed for a bone?

If a later report contains a new bone site, Then it could be shown as belonging to different year. Usually, Consecutive reports have same bone sites for a patient.

I'm asked to verify that I'm human, But I don't see any verification widget?

The verification usually happens without requiring any action from you, If you don't see the Cloudflare widget then please refresh the page. Your report data will not be lost.

What is the maximum number of reports displayed?

You can have a maximum number of 3-4 reports in the Bone Health Tracker.

Where is my report data stored?

The report data without containing any personal information is stored locally in your browser. If you submit it for research, Its stored in our server.

What type of research is conducted with my BMD data?

The BMD data you submit is currently stored without any personal information. The data is not shared with anyone. I'm currently looking for researchers in the bone health field to collaborate for exploring the data for insights and developing better bone health treatments.

How can I learn more about Osteoporosis?

Here are some resources on Osteoporosis from CDC, NIH, Office On Women's Health.

Why did you build this?

Where can I follow the development of Bone Health Tracker?

You can follow the development of Bone Health Tracker on GitHub